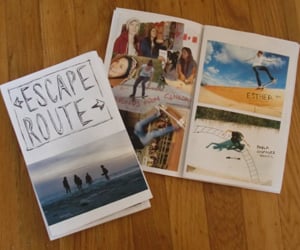 $

4.00
ESCAPE ROUTE is a zine that seeks to empower young girls & women to grow into strong, confident leaders who promote and implement social equity via skateboarding. The zine is made by female skateboarders and ALL content is submitted by female skateboarders.
Content includes:
Skate Event Dates / Info
Summaries of Skate Tours and Events
Stereotype: A Column by Jo
Skateboard Lookalikes
Interview with Lauren Perkins
Exerts from Vogue's book of Etiquette
Skateboarding in Vietnam
Photos from Girls Summer Gathering
Review of all female Surf/Skate film Dear and Yonder
Wheels of Fortune All-Girl Skate Contest Coverage
Women of Worth: Interview with Lisa Whitaker
Script for Women's Skateboarding: An Audio Documentary
Article on DIY Gardening
Interview with Taylor Beatty
Article on High School After-School Skateboard Programs in SF
Column: Wasting Time
Words by Stuggz
Photos and words from and of female skateboarders from the US, Mexico, Canada, Brasil, Argentina, Belgium and Australia.

**Color zines are sold out. Zines now available in B&W ONLY.

Escape Route is brought to you by the ladies of Skate Like A Girl.
For US: $1 will be added for shipping = a total of $5.
For International: $3.50 will be added.